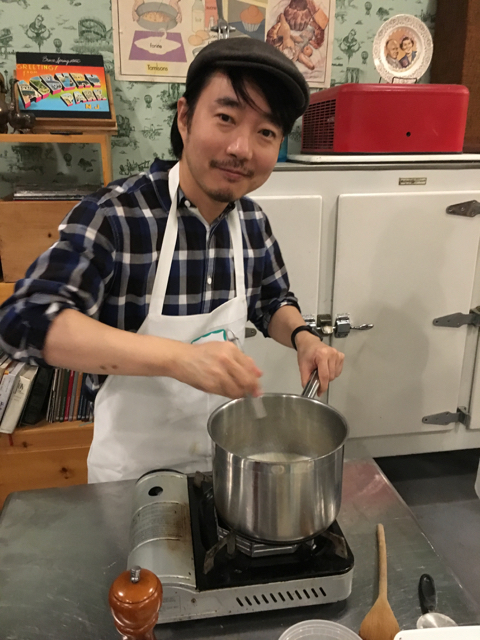 There are many ways to make mac and cheese —baked in the oven, out of the box, and our personal favorite, in one pot on a stove top. Combine a bechamel sauce with pasta and lots of cheese. Finish this ooey-gooey dish off with crunchy breadcrumbs and cayenne pepper for added texture and spice. 
This class is featured in our Sauces 101 class, available a la carte or as part of our Learn How to Cook series. Join us!
2 Boxes short pasta (such as elbows, shells, or rotini)

8 Tbsp (¼ lb, or one stick), unsalted butter, cut into pieces

½ cup all-purpose flour

6 cups whole milk (don't even think of subbing in some diet milk here, and take your mylks elsewhere. We'll accept cream, but you don't need it)

Kosher salt and freshly ground black pepper
1 Bay leaf
1 clove garlic, grated on a microplane
½ tsp cayenne pepper
2-3 cups grated parmesan
2 Tbsp olive oil or butter
1 cup Panko breadcrumbs (or crumbled Saltine crackers)
1. Stick the bay leaf into the milk to infuse its flavor. Bay leaves add a mysterious baseline flavor note that enhances many savory dishes. 
2. Melt the butter in a large, high-sided saucepan over low heat and add the flour to first make a roux (flour + fat). Stir constantly with a wooden spoon until the taste of raw flour is removed, about 1 minute. It will start to smell different, a cooked smell, indicating the beginning of Maillard reaction, our favorite chemical reaction between amino acids and sugars.
3. Bring a large pan or stockpot full of water to a boil, it will be faster if you cover it to prevent heat loss.
3. Slowly pour the milk into the pan while whisking vigorously to turn mixture into a bechamel (roux + dairy). While continuing to whisk, bring the mixture barely to a boil, then reduce the heat to a simmer. This is where you must stay riveted to the stove, as this combination is very likely to clump and scald. This is where it can all go wrong. 
4. While finishing off the sauce, salt the water and cook the pasta according to the directions on the box, then drain. If you're good, you'll time this so that the pasta is just draining when the sauce is ready, so the sauce absorbs right into the hot pasta. 
4. Add a big pinch of salt, a few good cracks of black pepper, and the cayenne. Continue to stir until the mixture has thickened and coats the back of the wooden spoon. This is bechamel, which is one of the five fancy French mother sauces.
5. Remove from heat and whisk in 2 cups parmesan, and now you have mornay sauce, which is bechamel plus cheese. Taste, then add more salt, cayenne, or cheese as desired. Your pasta should be ready exactly now,  so pour the sauce over it in a decent serving bowl, or back into the stockpot, we're not here to judge you.
6. Now for the topper: place a small frying pan over medium heat and add the olive oil. Once the oil is hot and beginning to shimmer, add the panko breadcrumbs and stir to combine. Continue stirring until the breadcrumbs are uniformly golden brown, then remove from heat. Season with salt and pepper, maybe a little more cheese if you have some around.
7. Sprinkle the mac and cheese with breadcrumbs and serve.
This will store very well in the fridge for up to 4-5 days, and is a good option for a portioned frozen dish. Reheat in the oven or microwave.